Premium antique clock repairs in Perth
The driving force behind Willi the Clockman is Willi Schneider, who has had a lifetime fascination for clocks and barometers.
Having gained his master's degree in precision mechanics during the 1960s, Willi worked in a clock and barometer manufacturing company in Germany before coming to Australia in 1982.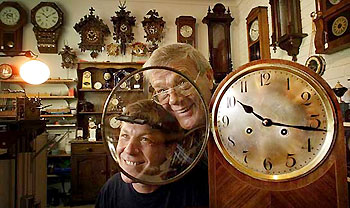 Soon after arrival he founded Willi the Clockman with wife Brigitte, who was highly regarded in Germany for antique framing and restoration.
A proud history
Reliability, workmanship and customer service brought instant success. In association with their son, Holger, the first clock workshop was opened in Subiaco, Western Australia.
The premises have since changed and the main showroom and workshop are now located in Perth's hills, about 20 minutes from the city.
We have a combined 70 years experience in clock repairs and restoration.
Holger has serviced and repaired more than 3,000 clocks and is able to attain ANY kind of clock a customer wishes to own. Just ask him!

Sitemap | Copyright and Privacy
This website produced by Scribeworks 2009